Create a Successful Wiki
Jump to navigation
Jump to search
Create a Successful Wiki
We all want to create a great wiki, the problem is no-one actually tells us how to go about making our wiki stand out from the literal thousands of mediocre ones, because let's face it there's a lot more ordinary wikis than there are amazing ones.
We all have our own personal vision of what success looks like, and though we aspire to greatness, for many it remains illusive, not because the content is poor, or the topic is unpopular, but because the method of acquiring success is misunderstood.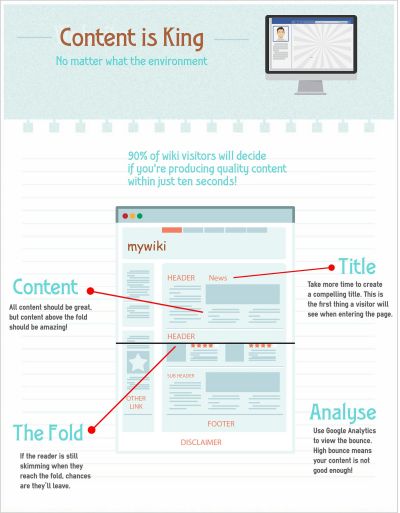 Wiki Content - Create, Analyse & Improve
Look to your own skills
Regardless of what your skills are, it's a pretty strong bet that you're an expert at browsing the web, it's something most us excel at because we do it a lot.
Next time you're visiting a website looking for information, observe how you interact with good and bad content.
The key isn't applying the good practices, but being able to distinguish the bad and then removing those qualities from your own web pages.
It is this ability to understand how people differentiate between good and bad content that makes it possible for us to build a successful wiki.
Page Scanning
One skill that most adults have (and are probably unaware of) is Page Scanning (or Page Skimming), this technique of reading is usually more prevalent in people that read a lot, and it is used for reading books, newspapers and web pages.
Page scanning involves reading a small portion of a page searching for "key phrases" and other elements (e.g. images) to determine if the page includes information we're looking for.
Similar to ordinary reading, scanning starts with the title, travelling from left to right and down the page as far as the fold (the location where further reading requires scrolling) and if the phrases or other elements isn't found at this point the reader will leave in search of a document that does contain the info.
The eye can also be forced to move from its practised path with visually appealing elements such as brightly coloured text, large fonts and info graphics.
What this tells us?
It is vital to create the right impression immediately, it's not good enough to simply have good wiki content, we need our wiki content to be exceptional.
Spend more time creating a compelling title and increasing the quality of the content above the fold. Adding an infographic (as we have done here) is a great way of diverting the eye, and encourage the reader to take a deeper look at the content.
Spend lots of time on a single article, if you're creating more than one new article a week, it probably means that you're not putting enough effort into creating content that people will like to read, remember quality always outweighs quantity.
A single high quality article can generate thousands of visitors and a bunch of links from bloggers and other webmasters, which will keep you supplied with a steady footfall of visitors for months to come. High quality articles will also increase your page authority, meaning your article will rank higher with search engines.
Testing and continual improvements
To find out if visitors like your content you will need to analyse how they are interacting with your pages. Google Analytics offers a great metric for just this purpose in the form of bounce rate, which shows us the leave to stay ratio. A higher bounce rate means more people are leaving than staying, so if you're getting a high bounce rate modify the content until the bounce rate reduces to an acceptable level - anything under (or around) 50% is good, under 30% is best and anything above 60% is indicative of a negative reaction and 100% means they hate it!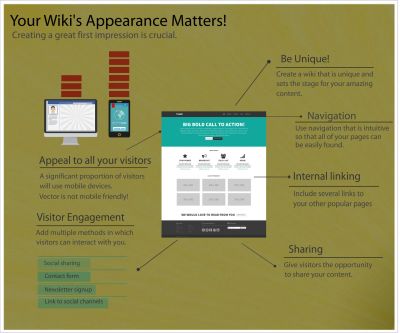 Wiki Appearance - First Impressions Count
A lot can be said for being unique and you will need to make a judgement call as to whether your wiki's default skin, theme or template will leave a positive first impression on your visitors, you should also remember to spare a thought for your mobile visitors. Engage your visitors.
On page outreaching is an effective and easily employed method of getting your visitors to communicate with you in some way. The most effective and time tested methods are;
Commenting
Social sharing
Links to your social network profiles
Contact form
Newsletter sign up
Subscription sign up
Not reaching out to your visitors will certainly be contributing to your wiki's poor performance, so consider using at least one of the above. The most effective are commenting, social sharing and contact form.
Effective visitor engagement means never ignoring anyone, responding in a timely manner to any questions or comments and treating each person that gets in touch as if they are the lottery guy calling to say you've won the jackpot!
Strike a balance between being professional and friendly, be attentive to their need and always offer more help than they're asking for.
Happy visitors that you get on with or who you have helped are more inclined to help you in return.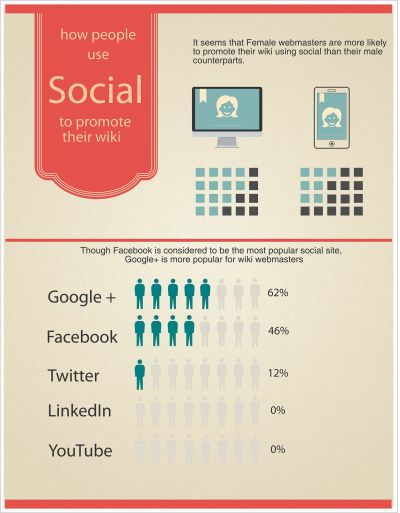 Social Media
You might be surprised to learn that many wiki webmasters do not actively participate in social media as a means of promoting their wiki.
For this reason we've started a campaign that promotes the benefits of social media, starting with a survey which we launched in December. Wiki Social Media Statistics.
The following statistics come from surveys kindly submitted by our members, people that use our products and other visitors to our website. The percentages below are indicative of the participation of wiki webmasters in social media marketing.
81% of age groups 18's - 45's actively participate
12% of age groups 46's - 65's actively participate
No surveys were submitted by over 65's
76% of all surveys were submitted by 36's - 65's
4% of all surveys were submitted by 18's - 25's
79% of females actively participate
41% of males actively participate
74% display social icons
33% share new articles
46% use Facebook
12% use Twitter
Other Statistics
The following statics were taken from an SEO analysis of those sites that did not display social icons and did not share new articles with social sites.
The average domain authority was 23
The average quantity of back links was 64
The average number of google page one keyword results was 7
The following statics were taken from an SEO analysis of those sites that did display social icons and did share new articles with social sites.
The average domain authority was 41
The average quantity of back links was 136
The average number of google page one keyword results was 23
Yes these are just statistics and it's impossible to say for sure why some wiki's rank higher than others. We've also only surveyed a tiny percentage of webmasters, but these results are both damning and positive for a number of reasons. We'll leave you to draw your own concussions.
What's the Point?
Being proactive in social media will help;
with outreaching
gain more backlinks
gain backlinks with more authority
elevate your sites trust
pages rank higher